Timeshare Title Transfer Services
TIMESHARE EXIT
AND SUPPORT SERVICES
Are you among the 87% of timeshare owners who regret their purchase? Are your annual maintenance bills and special assessments adding up? Is your interest rate sky-high, and you can no longer afford your mortgage payments? If any of this sounds familiar, you're not alone.
For many people, owning a timeshare has become a financial nightmare. They've attempted to sell, give it away, and even tried to pay people to take it from them, but one seldom finds a person willing to accept a timeshare and the lifetime financial obligations that come with it.
If you're ready to get out, we can help. Since 2012, Lonestar Transfer has been industry-leading in timeshare transfer and exit services. Our team of expert negotiators deals directly with the resort on your behalf, takes care of all the paperwork, and ensures that your name is successfully removed from the title and mortgage. 
In other words, we'll handle everything to arrive at a favorable resolution for your timeshare exit. Choose from our two primary services: Timeshare Transfer and Mortgage Cancellation, and get started today. Schedule a free consultation with us to discuss your options.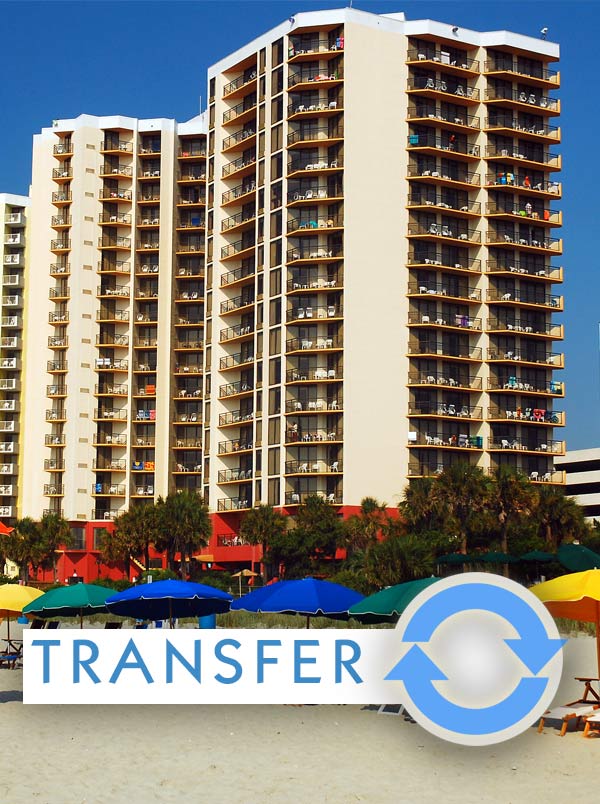 Get Tailored Advice
Some companies treat every timeshare transfer case similarly, but we know better. Lonestar Transfer understands that every situation is unique. That's why we offer a free consultation to better gauge which of our timeshare exit services is best for you.
Having served over 20,000 happy customers, we understand that each timeshare ownership is different, and we treat them that way. Our team takes the time to understand your situation and offers tailored advice on how to proceed. 
Together, we'll create a personalized exit strategy with a 100% money-back guarantee. We'll discuss your customized options and see what viable solutions are present to help you get out of timeshare obligations quickly and easily. No matter your unique timeshare story, we're here to listen and help.
To Whom Can Timeshare Be Transferred To?
One way to get out of a timeshare is to transfer it to someone else. This can be an effective way to free yourself from a timeshare, as you essentially pass on the responsibility and legal obligations that come with ownership.
If you have a family member or friend interested in taking over your timeshare, consider gifting your timeshare to that person. This is relatively easy and cost-effective as you do not need to list your timeshare for sale or pay any transfer fees.
Alternatively, you can also sell your timeshare to another buyer. This can be done through an online marketplace, a timeshare resale company, or even directly to the resort itself. When selling your timeshare, you will need to pay fees, which vary depending on your agreement with your resort and the complexity involved in transferring ownership.
WHY YOU MIGHT WANT TO GET OUT OF TIMESHARE AGREEMENTS
We hear many different reasons why people reconsider their timeshare investment and look for a timeshare transfer of ownership, though some come up time and again. Let's take a closer look at a few of those reasons.
Timeshare Maintenance Fees Increasing: It's a fact that when you purchase a timeshare, fees come along with it. Often, these fees either take buyers completely by surprise or they rise unexpectedly, leaving you scrambling to come up with funds. Such fees include membership fees, general maintenance, taxes, special assessments, and more. Transferring your timeshare ownership absolves you of the responsibility of paying these unexpected or rising fees.
Timeshares are complex: Timeshares are complicated, and people selling timeshares or scammers claiming to help you transfer timeshares will try to take advantage of your lack of knowledge about the complexities of the industry. They'll use legal terminology to swindle you out of even more money.
No Return on Investment: Though timeshares are sold as if they are investments for your future, buyers soon find that they are more of a liability. The value of your timeshare decreases the moment you sign for it. Once you add in all aforementioned fees, buyers rarely feel they receive as much as they've given when it comes to their purchase.
Cost of Travelling: Traveling to your chosen vacation destination is a special experience. If it were right down the road, you'd surely go all the time, but then you wouldn't need a timeshare. Many enthusiastic travelers think that they'll visit their timeshare often and don't factor in the price that comes with regular plane rides, rented cars, and other travel fees.
Pressured into Purchasing: We hear time and again that people felt coerced into purchasing their timeshare. Intimidation tactics when selling timeshares aren't ethical or legal. Being pressured to spend your money on a timeshare is a serious cause for transferring your timeshare ownership or canceling the ownership altogether.
No matter what your reason for wanting to transfer your timeshare is, our team at Lonestar Transfer can help you. Give us a call or fill out our online form today to schedule a free, no-obligation consultation.
HOW CAN I TRANSFER MY TIMESHARE TO SOMEONE ELSE?
The first step is to find someone to take over for you. If you know a friend or family who would like to acquire your timeshare, that's fantastic! There are numerous ways to transfer your timeshare, including a will, probate, joint ownership, and living trust.
You should know the approximate worth of your timeshare before searching for a buyer. This can be done by having it appraised. Once you know the asking price, there are different avenues to find a buyer. Contacting a realtor is one option. Placing ads in newspapers and online is another.
Proper documentation is necessary when pursuing a timeshare transfer, as they're legally needed to move forward, and buyers will want to see that you're organized in the process. Ensure that you have the original contract, as it contains the legal description of the property. Other important documents include the deed, financial agreements, taxes, etc.
After you've found a buyer and have the paperwork in place, all that's left is establishing a contract for transferring. We write up any legal papers and ensure you understand every stage of the process so that you can move on with your life – stress and timeshare free.
Lonestar Transfer is committed to helping you get out of your timeshare as stress-free as possible. We offer answers to your questions, help you avoid timeshare scams, and invite you to contact our headquarters in the heart of Texas, USA. As a diligent and customer-oriented company, Lonestar Transfer provides all of the following:
Free private consultation, with no obligation
Assistance in stopping all liability of a timeshare contract
Assistance in stopping all liability of a vacation club contract
Support in eliminating all maintenance fees and special assessments forever
Timeshare exit solutions that come with a written guarantee
The peace of mind of knowing that your children will never be saddled with the debt of the timeshare
To qualify for the timeshare transfer program, you must own your timeshare free and clear of any mortgage. In cases where you have a mortgage on your timeshare, you may qualify for our timeshare mortgage cancellation program.
What Our Clients Are Saying